Small to Medium Volume Production System – Small-ELVESS
Equipment for Small & Medium Volume Production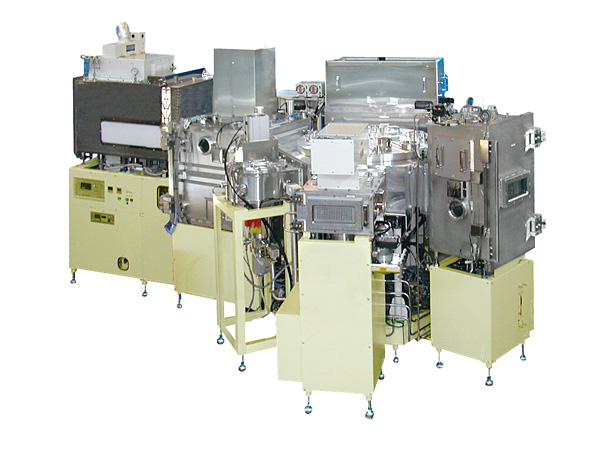 Features

Specifications

Applications
Features
The optimized equipment for basic R&D and small-volume production of OLED displays.
All process from O2 plasma cleaning to deposition, encapsulation, are all performed in a single system, enables to fabricate the high-performance OLED device without touching the atmosphere.
This equipment enables panel development for mass production efficiently by high repeatability demo tool.
Typical specifications
Glass substrate

200 x 200mm, with an effective deposition area of 160 x 160mm
Load lock chamber

One substrate and two masks in a three-stage elevation mechanism
Plasma cleaning chamber

RF plasma power supply, O2 mass flow controller
Deposition chamber #1

Low-temperature cell evaporation source (8 pieces), alignment mechanism ± 5μm
Deposition chamber #2

Low-resistance heating evaporation source (4 pieces), alignment mechanism ± 5μm
Delivery chamber

Glass substrate delivery mechanism, N2 substitution
Encapsulation chamber

Semi-automatic laminating mechanism, UV lamp unit, N2 dehydration and circulation mechanism, N2 substitution mechanism
Passage chamber

Exhaust: Fully automatic
Deposition: Semi-automatic operation
Encapsulation: Semi-automatic operation
Control system

Substrate delivery: Semi-automatic operation with film thickness control through crystal deposition control
Options

Addition of deposition chamber or sputter chamber
Electron beam gun evaporation source, high-temperature cell, oxygen meter, dry pump
Applications
OLED display panel(high-mix low-volume production)
Organic photovoltaic cell
Organic semiconductor